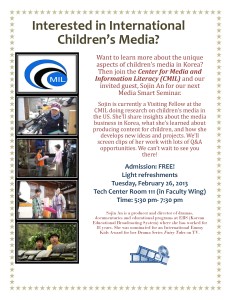 Guests learned about the unique aspects of children's media in Korea from Producer and Director, Sojin An.
This seminar was at Temple University on February 26 from 5:30pm to 7:30.
Sojin gave the audience the opportunity to view and talk about two of her most recent pieces: Chicken Soup and The Little Helper. She also spoke to them about what she does with the EBS (Korean Educational Broadcasting System) and her process for creating films.
Sojin is currently a Visiting Fellow at the CMIL doing research on children's media in the US. She is a filmmaker with the Korean Educational Broadcasting System and one of her recent films was nominated for an International Children's Emmy Award.