The fourth annual Children's Media Career Symposium took place on April 7th. This event served as an opportunity to learn about the industry firsthand, from leaders in content creation, animation, podcasts, marketing, research and entrepreneurship. Guest speakers bought experience in television, streaming services, consumer insights, curriculum development, new content development, animation and more!
The event was geared to students and alumni interested in working in children's media. The evening included two panel sessions:
Panel #1: "Trends in the children's media industry"
Panel #2: "Creative ways to jump-start your career in children's media"
Panelists:
Amy Kraft – Director of Development and Children's Programming at Pinna.
Amy Kraft is the Senior Director of Development and Children's Programming at Pinna, leading development of a growing library of more than 50 Pinna Original podcasts and 60 Pinna Original audiobooks. She is a children's media veteran who has created innovative and interactive entertainment with companies including Scholastic, Houghton Mifflin Harcourt, Sesame Workshop, Spin Master, Microsoft, Kyowon, Barnes and Noble, and Leap Frog. She was cofounder of the children's content company Monkey Bar Collective and a founding member of KIDMAP, the Kids' Inclusive and Diverse Media Action Project.
Linda Simensky – Head of Animation and Scripted Content, Duolingo
Linda Simensky is Head of Animation and Scripted Content for Duolingo. Simensky is leading the company's efforts to create scripted and character-driven stories featuring Duolingo's original cast of characters, from original animation to the writing efforts for Duolingo's hit Stories product and its childhood literacy app, Duolingo ABC. Before Duolingo, Simensky was Head of Content for PBS KIDS. She began her career at Nickelodeon, where she helped build the animation department and launch the popular series "Rugrats," "Doug," and "Hey Arnold." Simensky also teaches animation history courses at the University of Pennsylvania.
Diondra Brown – Content & Curriculum Manager at Twin Cities PBS
Diondra Brown is a media consultent and content creator within the children's media industry. Diondra specializes in child development and research, as well as community outreach. She used this psychotherapist knowledge to enter the media world, where she would become the Content & Curriculum Manager at Twin Cities PBS. Currently, Diona is working on the Ready to Learn project, which seeks to enhance the readiness and skills for K-12th children.
Natalie Engel – Senior Director for Children's Programming at PBS Kids
Natalie Engel is the Senior Director of Content for Children's Programming at PBS Kids. Natalie shapes the projects for their audiences by working closely with the series creators and helping them shape their project. Additionally, Natalie serves as the production executive on series such as ODD SQUAD and PINKALICIOUS & PETERRIFIC.
Stephanie Sosa – National President for the Children's Media Assosciation
Stephanie Sosa is the National President for the Children's Media Association and previously started the Los Angeles chapter. Stephanie is a freelance producer, writer and assistant director who has worked in a wide variety of films and tv productions for many companies including The JIM HENSON COMPANY, Pocket.Watch, ESPN, No Strings Productions and WARNER BROS. Stephanie and her husband currently live and travel in their RV, while she works on her own freelance projects and also works remotely as Senior Production Manager for Tinkercast.
Mariana Diaz Wionczek, Ph.D.
Mariana is Executive Producer on the Dora the Explorer reboot and on 9 Story's Rosie's Rules. As a children's media advisor, she specializes in DEI and cultural and bilingual competencies, partnering with companies who strive to have a positive impact on children's lives through high-quality media experiences. She teaches a graduate class at NYU, gave a TEDx talk on ethnic identity, is a reviewer for the Journal of Children and the Media, and is a contributor to The Future of Children 2020 report and KidScreen. Mariana obtained a Ph.D in Psychology from CUNY's Graduate Center and a B.A. from the National University of Mexico.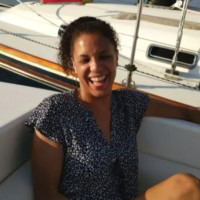 Jackie Payton – Producer at 9 Story Media
Jackie is a emmy nominated children's television producer. Jackie currently produces for 9 Story Media Group, a production and distribution company in Toronto. 9 Story is responsible for many great shows such as Daniel's Tiger Neighborhood and Blue's Clues for You! Prior to joining 9 Story, Jackie also served as a producer at All Ages Productions and Nickelodeon Animations.
Gallery: